If you want more toned, smooth, wrinkle free skin or if you want to clear acne, eczema, rosacea, or psoriasis. Then use these products in the comfort of your home for a professional results facial.
Vegan Clay Cleansing Bar
Vegan Mystic Transforming Moisturizer
Vegan Clay Mask
Vegan Honey Aloe Lotion
-Here's how to give yourself a home facial that will renew and heal your skin:
-Cleanse your face with the luxury Vegan Clay Cleansing Bar Am and PM. Afterwards, apply a thin to moderate layer of Vegan Mystic to your face and neck including around the eye and behind the ears and neck. Every other day, apply our clay mask to your face and neck. Allow to dry (usually around 10 or 15 minutes), then wash off in the shower or bath or with a warm towel at the sink. We leave a little grit in the clay to help with exfoliation, so when you are washing the mask off be careful not to use too much force.

-Always apply the moisturizer Vegan Mystic after using the clay mask. We recommend while you are using these three products that you avoid the use of any other product containing toxic chemicals - particularly avoid toxic products for up to 24 hours after application of the clay mask (with the exception of some foundation or light makeup and mascara).
Most face moisturizers and eye creams, even the really expensive ones, contain toxic chemicals.
You are using the clay mask to get this toxic junk out of your skin -
-So don't keep adding it back into the skin. As your skin improves, you will have the option to choose to wear much less makeup or none at all; and you really won't need any other skin care products.

Powered by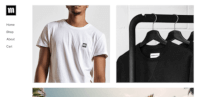 Create your own unique website with customizable templates.

#weebly-footer { visibility:hidden }