Would You Like To Have Tighter Skin On Your Face And Neck?

Vegan Skin Tightening Serum-Instantly Firms, Tightens And Lifts.
Smooths Fine Lines And Wrinkles. Instant Firming Results That Improve With Continued Use.
Diminishes Fine Lines And Wrinkles.

Helps pull the sag out of the face and neck.
All Ingredients Extracted By Us From Fresh Food.
100% All Natural
We meticulously produce this product using only artisan processes that are thousands of years old..
A Skin Tightening Serum that blends science and nature in a way no other product has done before.
Ingredients
Fresh Spring Water, Flavinall™ (bio-extracted citrus flavinoid-peptide complex derived from organic citrus and vegan protein foods), organic coconut oil, organic extra virgin olive oil, grapeseed oil, vegetable glycerin, organic jojoba oil, vegetable wax, fermented horseradish root, organic lecithin, vanilla extract, grapefruit extract.
Directions
Do a skin test on a small patch of skin before general use. Before applying cleanse skin, then simply hold the vial upside down and roll on. After liquid dispenses on skin take your finger tips and spread evenly. When applying around eye make sure to not get into eye or apply to eye lid. If you have problems with the liquid dispensing roll on the back of your hand a few times. A small amount of redness or glow is normal however if you experience itchiness, extreme redness then reduce frequency of use or discontinue. This product can be applied under makeup, sunscreen or moisturizers. For extra tightening you can apply extra on top of the moisturizers, Facelift and Eye cream.

Your Skin Becomes Instantly Tighter When You Use This Product

The tightening effects keep increasing with continued use
Can be used alone,under any moisturizer or to enhance the effects of Natural Fusion Facelift Cream
Diminishes the appearance of fine lines and wrinkles. Helps pull the sag out of the face and neck.
Prevents fine lines, wrinkles and sagging skin from developing. The sooner you start using this product the better.
Contains The Richest Broth Of Plant Stem Cell Cytokines Ever Developed. They Are Signalling Molecules That For Example Tell Your Cells To Produce More Collagen And Elastin Fibers. Regeneration Will Not Happen Unless These Molecules Are Present.
The discovery of this skin tightening serum started with some probiotic cultures we created to extract sulphur compounds from garlic.
Some of those cultures were accidentally mixed into a nutrient liquid that ended up growing protein structures that resembled something that looked like tofu.
We analyzed these structure and found the liquid when pressed out of them contained an abundance of cytokine growth factors.
Cytokines are signalling molecules that for instance tell the collagen and elastin producing cells to produce more collagen and elastin fibers.
Regeneration will not take place without these signalling molecules.
Most procedures like lasers, chemical peels and deep microderm abrasion cause injury which stimulates the cytokines to start the repair process.
This serum gives you a non-injurious method for skin regeneration.
Each batch of this serum takes a month to produce. After we grow the protein structures we then hand press the transforming liquid that when applied, instantly transforms your skin.
You can use this skin tightening serum with any of our other products

Its All-Natural and contains no chemicals or toxic preservatives


Frequently Asked Questions
-How long does it take for me to see results?
It happens immediately and for about 1 hour after application the skin tightness keeps increasing.
-Can I use around the eyes?
Yes, just don't get any on the eyelid.
-When is the best time to use?
AM and PM before applying your moisturizer or the Natural Fusion Facelift Cream.
-Do I have to keep using this product?
No, you can start and stop using the product and still get results.
-How much should I use?
That is up to you, the more you use the better the results.
-Are these results permanent or just temporary?
The ingredients help give the skin a nutrient boost so the cells can produce more skin tightening fibers. The results are not just a temporary gimmick you see in other skin tighteners.
-Can I use with other skin care product like sunscreen?
Yes, we know of no contraindications with other products, however we recommend you use Stemlate first and then follow with the other products.
Reviews

"Love the way this product makes my skin feel and it smells good."

"Immediately my skin felt soft and smooth and my skin was much tighter."

"I love this product. It is light weight and I use it morning and evening before applying my moisturizer."

"It really works and I am almost 60."

"Just started using this product, and I am very pleased with the results. I have tried many other serums, but this one really works. Fine lines and wrinkles are disappearing and my skin feels soft and my skin is tight. I would highly recommend this product."

"I highly recommend, well worth the price it makes a huge difference in my skin after applying-really does lift."

"Have used for approximately 2 weeks and definitely can see a change in my skin."

"I started using this serum about 2.5 weeks ago and the sag is almost gone."

"This serum does what is says - tightens your skin. It is absorbed very quickly and does not leave a greasy residue and has a pleasant scent"
Powered by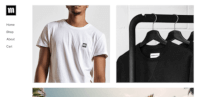 Create your own unique website with customizable templates.

#weebly-footer { visibility:hidden }