If you want more toned, smooth, wrinkle free skin or if you want to clear acne, eczema, rosacea, or psoriasis
She got better results with our home facial.
Her skin became clearer, smoother, brighter, tighter, and healthier.

Home Facial
- Vegan Face Lift Cream
-Vegan Mystic Transforming Face Cream
- Vegan Clay Cleansing Bar.
Like the rest of our Skin and Body Food product line, the home facial products are organic and completely non-toxic.
I could go on and on about the science behind why these products are so effective at clearing, healing, and anti-aging your skin; but if you are like me, you like things simple.
What was the secret ingredient Ponce De Leon was seeking when he was searching for the fountain of youth?
btw - you will only find this in our product line!
---
Throughout history there have always been tales of "magical waters" that heal people, or improve their health, or make them look younger. Some of these stories endured for centuries. There are some scientific truths behind these legend.

There is a miracle molecule cluster in nature called fulvic acid that completely dissolves in water.
Sick, dead, or broken down cells are attracted to fulvic acid mineral clusters like iron is to a magnet.
When cells come into contact with this miracle substance they become healthy, alive, and well.
The minerals present in the fulvic acid complex we use in our products are as necessary to the health of your cells as the oxygen you breathe. Without an adequate supply of these minerals,your skin will age faster and become more susceptible to a wide variety of skin problems.

In specific areas around the world where people live lifespans beyond a hundred years there is a connection between fulvic acid mineral complexes in their soil and their longevity.
For instance, there is an area in Japan where the population lives to an average age of 110. They retain smooth, youthful skin even past the age of 100 and what is really astounding is that most are heavy smokers.
How is this possible?
Because this population receives lots of fulvic acid mineral clusters in their food and environment. Fulvic acid can neutralize toxins better than any natural substance science has yet discovered, including toxic pesticides and radiation.

---
Here is a list of some of the other benefits provided by the fulvic acid mineral clusters in our :
"Vegan Clay Mask ", "Vegan Face Cream", and "Vegan Clay Cleansing Bar".
Serves as a powerful electrolyte to restore the electrical potential in cells which in turn helps bring an attractive glow to the skin.
Neutralizes all forms of free radicals better than any vitamin or herb and helps you to get rid of age spots or restore the structural integrity of your skin - giving you tighter and more toned skin.
Possesses an inherent ability to neutralize harmful bacteria, viruses, and fungi which can really help to clear up problem skin like acne, rosacea, eczema, and even psoriasis.
Delivers a mineral cluster in a small enough size to be utilized by cells to produce more new collagen and elastin fibers, thus giving you a more youthful look.
Helps your cells create new skin faster, thereby increasing cellular turnover so that your skin always has that fresh, radiant look to it.
The main component of this Clay Mask is a rich montmorillonite clay teeming with fulvic acid mineral clusters guranteed to infuse your skin with massive nutrients; we also add over 30 herbal extracts to insure that these minerals penetrate deep into the skin. This forumla also pulls out toxins like metals, dead skin, chemicals, and accumulated debris. No synthetic chemicals are used in this clay mask. It is the only clay mask we know of that does not contain some sort of chemical preservative. You can do what we did and compare ours to theirs and you'll find our statement to be true.

---
The Second Product Is Our Luxury Vegan Organic Moisturizer
We start with massive amounts of our special clay and extract all the fulvic acid mineral clusters into an organic cream base that has high concentrations of Frankencense and Kigelia. This is the most moisturizing, healing face cream that has ever been developed. The effects go way beyond even the most expensive creams sold around the world today. Your skin will be smooth, soft, toned, tightened, and glowing.


The Third Product Is Our Luxury Organic Vgan Clay Cleansing Bar
We took virtually every ingredient in our clay mask and made an organic clay cleansing bar. This cleansing bar is so moisturizing that you can shave with it. You can also use it as a natural deodorizer to refresh your skin in a profound way.

Here's how to give yourself a home facial
...that will renew and heal your skin:
Cleanse your face night and morning with the luxury clay cleansing bar. Afterwards, apply a thin to moderate layber of Our Luxury Organic Moisturizer to your face and neck including around the eye and behind the ears and neck.
Every other day, apply our Vgan Clay Mask to your face and neck. Allow to dry (usually around 10 or 15 minutes), then wash off in the shower or bath or with a warm towel at the sink. We leave a little grit in the clay to help with exfoliation, so when you are washing the mask off be careful not to use too much force. Always apply the moisturizer Our Luxury Organic Moisturizer after using the clay mask.
We recommend while you are using these three products that you avoid the use of any other product containing toxic chemicals -- particularly avoid toxic products for up to 24 hours after application of the clay mask (with the exception of some foundation or light makeup and mascara). Most face moisturizers and eye creams, even the really expensive ones, contain toxic chemicals. You are using our clay mask to get this toxic junk out of your skin - so don't keep adding it back into the skin. As your skin improves, you will have the option to choose to wear much less makeup or none at all; and you really won't need any other skin care products.

Powered by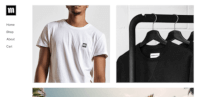 Create your own unique website with customizable templates.

#weebly-footer { visibility:hidden }